How to manage money at every stage of life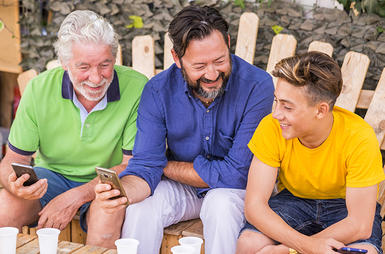 Every stage of life brings its own financial priorities and challenges. Not everyone follows the same path through life or goes at the same pace, but when you know what to expect and what options are available to help you, you'll be ready for anything.
Whether you need a little financial help now or you're preparing for the future, here are some tips for managing your money at every step along the journey.
Going to university
Unless you qualify for fees-free study, or you're being supported by your parents, you'll have to pay for your course fees, study materials and living costs if you choose to study higher education. An education loan can cover most or all of this, but only if you're frugal with your expenses or you can fit in a part-time job.
If you're living independently for the first time, you could find it useful to keep a note of all your transactions for a while, so you can get an idea of your living costs and check that you're not spending more than you can afford.
Some banks offer accounts tailored to the needs of students with a free overdraft up to a certain amount, which can be a useful buffer if you ever need it.
Taking a gap year
If you want to see the world or gain other valuable life experience before deciding what to do next, a gap year could be one of the most memorable times in your life, though it can also be expensive.
If you're supporting yourself, you might be surprised to learn how quickly costs can add up. You can cover some or all of your expenses by applying for a holiday loan or taking on temporary employment or odd-jobs during your year off. Just make sure you're legally allowed to work if you're travelling abroad.
Starting your first job
Even if you supported yourself through university, the adult world can still be daunting at first without a student loan to fall back on. While you may be required to start making payments on your student loan, you should prioritise any higher-interest debts you have first, such as credit cards, and not worry about paying more than the minimum on a student loan until you can comfortably afford to.
While it may feel like you're relying on every cent you earn to survive, you should try to set aside at least 20% of your income for an emergency savings fund in your first year, just in case you find yourself out of work or have other unexpected expenses. Look for savings accounts with competitive interest that allow you to withdraw your money any time if you really need it.
Your employer will contribute to a Super Fund, either one of your choice or the Default fund. Keep the records of your super account, if you change jobs, you might want to transfer your super, so it stays in a single fund.  Any money you set aside now will be worth a lot more in the future thanks to interest, and free money from your employer is nothing to be sniffed at.
If you need a car for your job, a car loan with manageable monthly payments could be preferable to struggling on public transport for months or years while you try to save up the cash.
Starting a business
Whether you studied for a business degree or picked things up along the way in your career, going self-employed and starting a business can be very rewarding, but it's not for everyone.
It's important to research your field and draft a realistic budget and business plan to make sure your business idea is viable before you commit. You also need to be prepared for financial hardship in case your business takes time to start generating income.
Starting a business usually involves expenses, all of which should be detailed in your budget. A business loan could help you to get your idea off the ground and to afford the equipment, supplies, office rent or other things you need at the onset.
Getting married
As well as making you happy, moving in with your special someone can be good news for both of your finances, as if you both work you'll be sharing your living costs rather than paying separately.
There's also financial assistance if you need it, from wedding loans helping you enjoy your big day, to a mortgage that makes your first home together more affordable.
Buying a home is a big investment, and you should think carefully about your price range to make sure you can comfortably afford the repayments. Depending on your household income, it could be more economical to continue renting until you've saved up enough for a down payment.
If you and your partner haven't already created wills or taken out life insurance, now is the time to make sure you're taking care of each other no matter what happens.
Starting a family
Having children isn't cheap, but that shouldn't be a barrier to starting your family. You may have to give up some luxuries and cut unnecessary expenses now that you're putting the little ones first, as they'll be dependent on you for the best part of the next two decades (at least).
Setting aside funds for their education early can avoid money struggles when they start school. You should also make sure you update your will or life insurance to include the new members of your family.
If you need to make space for the new arrival or want to upgrade your family home, a home improvement loan could provide the funds you need.
Retirement
You've hopefully saved enough for your retirement by the time it arrives, but just because you're not working anymore, that doesn't mean you have to give up control of your finances.
If you want to stretch your nest egg further, you could consider selling up and moving into a smaller home. You should also embrace all the senior discounts you're entitled to – you deserve it.
Many people enjoy investing in their retirement years, but you should be wary of scams targeted at seniors and always check that you're dealing with a reputable party.
If you need money urgently and don't want to wait around for your pension, age isn't a barrier to taking out loans for the holiday of a lifetime, medical expenses or anything else you need.
With careful planning and forward thinking, every time can be the time of your life.
General Advice Disclaimer
The information contained on this website is general in nature and does not take into account your personal situation. You should consider whether the information is appropriate to your needs, and where appropriate, seek professional advice from a financial adviser.