"I want to borrow..."
Enter amount from $5,000 -$35,000
Select your preferred loan term
36 month term
60 month term
Rates from p.a.
(comparison rate p.a.)
Your credit profile
100% online application
Up to $35,000, unsecured
Close
What is Harmoney and how does it work?
Harmoney is Australasia's leading Peer-to-peer lending marketplace. Peer-to-peer lending matches people who want to borrow money with people who want to invest money. It's an efficient model that allows Investors to lend money directly to Borrowers without the need for a traditional Financial intermediary, giving everyone a better deal.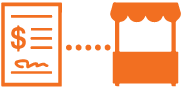 Step 1:
A Borrower applies for a personal loan, then when approved, lists it in the Marketplace.

Step 2:
Multiple Investors fund the personal loan in small amounts until it is fully funded.

Step 3:
The Borrower then repays the Investors over the next 3-5 years via Harmoney.
Who is Harmoney?
We are Australia's newest peer-to-peer lending Marketplace. Peer-to-peer lending has been an established and trusted way to borrow and invest money for over 10 years in the UK and USA. And now, after operating in New Zealand for over a year, we've brought it to Australia. Watch the video to hear first hand from our Borrowers and Investors in New Zealand talk about why they chose Harmoney.
Why borrow through Harmoney?

100% online application.
It's easy to apply online whenever suits you. 95% of loans on our marketplace are funded within 24 hours.

Rates from 8.99% p.a..
(Comparison Rate 9.52%)
You're unique, so is your interest rate. It's customised to your circumstances, not everyone else's.

Up to $35,000, unsecured.
No ball and chain here, just easy repayments you can afford. No hidden or early repayment fees either.
Why invest through Harmoney?

Attractive returns.
Consumer credit generally outperforms typical investments, which is why most of our investors enjoy returns of around 11% p.a..

Diversification.
Spread your investment across hundreds of different creditworthy borrowers with a new asset class to diversify your portfolio.

Professional Investors.
Harmoney is currently accepting "Sophisticated Investors", who can invest a minimum of $2,000,000.
What are people saying about us?