Five ways to take the stress out of planning a wedding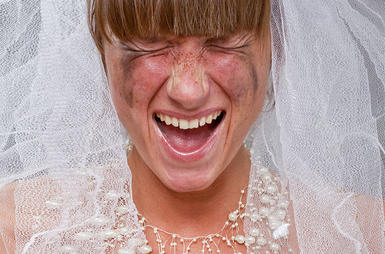 Weddings should be simple occasions: one special day that helps a couple celebrate their love with friends and family. However, studies find that planning this magical day is often one of the most stressful times someone will experience in their life. Making plans, accepting (and rejecting) help when you can and keeping a careful eye on your finances can all help to make things go more smoothly.
Plan early
One of the biggest causes of stress is running around at the last minute trying to get everything sorted. By planning ahead of time, not only do you give your guests time to organise time off work and any travel requirements, you'll also give yourself breathing space to get things done. Wedding Happy - Wedding Planner is a good smartphone app that help you plan and organise your happy day.
Follow a checklist
For a big event like a wedding, it's important to know that you've got everything sorted – otherwise you risk ending up in that last minute panic stage. An early checklist can help make sure you know what's been done and what you still have to get sorted.
Stand your ground
Throughout your wedding planning, well-meaning friends and relatives will offer advice and opinions to help you out. While these may prove to be useful at times, often they'll fly against the day you want. Trying to accommodate a little bit from everyone makes everything a lot more difficult to plan, so it's important to remember – despite accusations of being a bridezilla (or groomzilla) – that your wedding is about you and your partner, not anyone else.
Enlist help
Although your wedding is about you, others will be more than willing to help out. Whether it's getting someone to call around florists for quotes, to help with setting up on the day, or to take care of the cake as their gift to you is up to you, but each little piece you can get someone else to take care of is a little weight off your shoulders.
Make a budget
As well as getting all the little details right, how much you spend on your wedding can also be a source of stress. The average wedding in Australia can cost as much as $36,000, which understandably can cause a bit of worry.
Having a budget for your big day is a wise move, but the difference between getting stressed and scrimping on your dream wedding or borrowing a bit of money to make things go more smoothly can make a big difference for some people.
Harmoney offers personalised rates for unsecured wedding loans which are often funded within 48 hours, allowing you to focus on more important aspects of your big day.
General Advice Disclaimer
The information contained on this website is general in nature and does not take into account your personal situation. You should consider whether the information is appropriate to your needs, and where appropriate, seek professional advice from a financial adviser.