Renovate your finances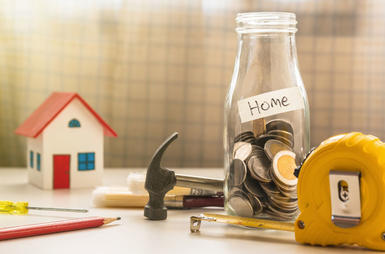 If the golden rule for buying real estate is "location, location, location", the golden rule for any renovation project is "preparation, preparation, preparation". With that in mind it can be a good idea to renovate your finances well before you swing the sledgehammer on your reno.
To get started follow our handy checklist to make sure your project is one you can afford:
Get your personal finances under control before you start
Make sure you know your expenses versus your income, how much you have in savings. And if you're considering financing your renovation via a personal loan it can be a good idea to check your credit score, and credit file, so you can try and ensure you're in the best financial shape to get the best interest rates.
If you have other debts, especially higher-interest ones such as credit card debts, that you're struggling to pay back, it's a good idea to get these under control before you embark on new spending. You might want to consider taking steps to consolidate your debt and delay your renovation project until you have paid back the debt.  
Find out more about a Harmoney debt consolidation loan
Figure out how much you can afford to spend
If you're financing your project out of your savings, it's fairly easy to see how much you can afford to spend. If you're hoping to borrow money for your renovation, have a play with our loan calculator to see how much your repayments might be.
It's well worth drawing up a detailed budget for your everyday spending at this point, to check that you can afford the repayments.
Factor in spare cash for budget blowouts
In just about every renovation project, something unexpected occurs, whether it's a ceiling falling down or a burst pipe. It's important that you factor in some extra cash for these eventualities.
General advice is to try and allow for about 10% on top of your original cost prediction to cover unexpected expenses. Keep that in mind when considering how much you may need to borrow if you're paying for your renovation with a personal loan. Remember if you don't spend that extra 10% you could decide to pay it back in a lump sum to reduce your loan balance owing. 
Make sure you're not overcapitalising
Overcapitalising means spending more on a renovation than you would be able to recoup should you sell the property. The general idea of renovating is that your home should be worth more afterwards.
But not all renovations are created equal. To get an idea of which renovation projects are likely to best raise your home's value, talk to a local real estate agent who is familiar with what homes like yours sell for in your area; and what buyers are looking for. They will be able to give you a good idea of whether your project is worth as much as you think, or if you're in danger of your project costing more than you'll get back should you sell at a later date.
Get several quotes for each piece of work
Different tradespeople will take different approaches to any given piece of work, as well as charging different amounts. Getting several quotes will mean you get the best value for money and you'll learn more about the different ways to do the task at hand.
Ask for itemised invoices and communicate regularly with your tradespeople  
If you get everything broken down in your invoices, there's less chance of an unpleasant surprise and it reduces the risk of mistakes happening - like being charged twice for the same thing.
It's also a really good idea to communicate regularly with your tradespeople, so you can keep on top of where the project is at. Knowledge is power in renovation, and conversely, ignorance is not bliss.
Here's wishing you the very best of luck for your project - happy renovating! 
Find out more about Harmoney home improvement loans
General Advice Disclaimer
The information contained on this website is general in nature and does not take into account your personal situation. You should consider whether the information is appropriate to your needs, and where appropriate, seek professional advice from a financial adviser.