Spring renovation season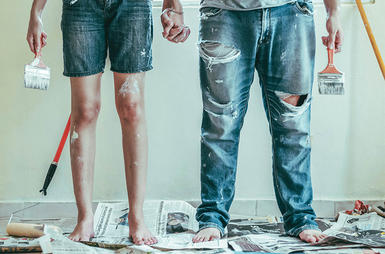 Spring renovation season
There is something special about the transition from winter to spring that brings out the inner home renovation spirit in us. As the temperatures warm up and the sun comes out so do the garden gloves, work clothes, and the power tools.
Start small
While the room extension to the house may sound appealing the addition of another room to the house can quickly get expensive. And complicated with possible paperwork and forms to fill out! Check out this list of cheap and easy DIY ideas to get the ball rolling.
Take advantage of the secondhand market
Power tools and materials needed for your renovation project can often be sourced secondhand. Try looking at sites like Trade Me (GumTree for AU version) and eBay, or visiting scrapyards or garages sales. The key to any secondhand purchase is being well informed. Details such as the new cost of an item, the condition it is in, and whether you actually need it can be good things to think about before making a purchase. It may save you from overpaying, impulse buying, or buyers remorse.
Try out removable wallpaper
The idea of putting up traditional wallpaper can be a daunting thought. There is a lot to commit to and get right. With removable wallpaper, however, you can add a fresh new touch to your rooms without the precision and commitment. Just prepare the wallpaper, attach to the wall, and if you mess up unstick it and put it up again.
Budget, budget, budget
For the biggest projects look at creating a comprehensive budget for your project before setting out. Make sure to be realistic about expenses and keep them updated as they change. This way you always have an accurate projection of how much things will change. This can help you stick to your budget but if you need a bit more to help finish a project a personal loan can help.
The power of paint
Don't underestimate the power that a single coat of paint can make when it comes to sprucing up just about anything. If your cabinets, shelve, doors, chairs, or tables are looking a bit shabby try giving them a fresh coat of paint. You will be amazed how much of a difference some sanding and a fresh coat will make!