Making up for lost time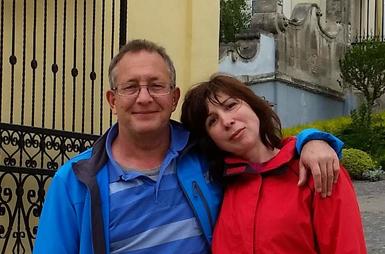 "Sometimes life just throws things at you; some unexpected twists and turns, so one minute you're feeling on top financially, then things can change."
John Hodgon has been making up for lost time over the past seven years. Having overcome a life-long fear of flying he's been travelling the world, and on top of that: "I fell in love and got married again."
John's wife Vika is from Ukraine, so the couple have been through a long visa application process so she could join him to start their life together in Queensland.
"We've had to go through the process of applying for a marriage visa and a partner migration visa, which takes a long time and gets expensive. It's fine. I'm obviously happy to spend the money on it but it has drained our savings over the past couple of years."
Prior to meeting Vika, and after his previous marriage ended in divorce, John decided he was going to overcome his fear of flying and fulfill his dream of travelling the world.
"I avoided flying at all, even though I always wanted to travel. When I did have to fly I would be stressed for days beforehand." Out of desperation John visited his GP for a solution.
"She actually prescribed me valium. It worked. Although I don't need it to fly anymore. I also used some mindfulness techniques as well."
Now, if you ask John which countries he's travelled to you should take a seat and get comfortable while he answers, because the list long.
"The Maldives, Sri Lanka, France, Austria, Thailand, Laos, Cambodia, New Zealand, and Ukraine, of course.
"Then, when I turned 50 I took my son, who was then 11, to Africa, through Tanzania, Zambia, Malawi, Zimbabwe and Kenya. It was incredible."
"I don't regret any money I've spent on travel. There's no point in being the richest person in the graveyard, and] when you're on your deathbed you don't want to be thinking about all the things you wished you did."
John opted to take out a Harmoney loan to help get him and Vika get their finances back on track ahead of retirement and consolidate some debt caused by the immigration costs.
"I work for the government so I am lucky I have an excellent superannuation plan. Taking this loan will just help us clear debt before retirement and means we can start saving again. We still have plenty of places we want to travel to.
"I consider myself a pretty financially literate person, but sometimes life just throws things at you.
"I never expected to meet Vika and when you fall in love with someone from another country, it's always an expensive thing, I think, but some things are more important than money."
Helping people achieve their goals is important to Harmoney. Making the whole process of obtaining a personal loan quick and easy is our way of helping.
Do you have a goal and need a personal loan to get there? We'd love to help.
Learn more about Harmoney personal loans.