How do we spell "spring"? D.I.Y.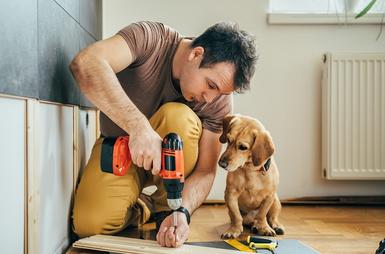 Whether it's a top-to-toe home makeover or just a bit of a tidy up in the garden, the power tools and garden tools come out along with the sun!
Here's five quick tips to help your precious home renovation budget - whether it comes savings or a personal loan - stretch as far as possible:
Keep it simple. Keep your home's existing footprint if you can. When you start moving walls or adding extensions things get pricey, not just with building costs but, depending on what you're doing and where you live, you'll likely strike additional compliance and sign-off costs.
Plant seedlings. If you want an instant, lush garden it can hike up costs as more mature plants tend to cost more. Keep costs down by planting seedlings or cuttings in trays before transplanting them. It's slower but definitely cheaper. As a side saving, consider filling your garden with edible plants - fruit, veges, herbs, edible flowers. They don't need to be restricted to the vege garden and they could help cut your food bill.
Re-use, recycle. A coat of paint goes a long way to giving a lot of items a new lease of life indoors and out. Kitchen cupboards, bathroom cabinets, fences, doors, windows, chairs, tables, shelves, walls and verandahs. Do an audit of the space you're making over and see where you might be able to save money by simply repainting something rather than replacing it. Also think about how you might be able to upcycle items from one space and re-use them in another. Can you re-purpose those bricks and pavers? A simple guideline is wherever you can use what you already have to decorate your new-look space.
Accessorise. Small, inexpensive details can often add some added "wow" factor inside an out. For example try hanging strings of solar-powered fairy lights around an outdoor seating area, or hang a bird feeder to draw some extra guests to the garden. Inside cushions, throws, art and pot plants are all simple ways to add personality and style to your spaces without blowing your budget. Switching out handles can also be a quick, inexpensive way of giving cupboards, doors and drawers a new lease of life.
Plan ahead and shop around. If you're working to a budget, planning ahead for where you will splurge and where you can save, will help you stay on track. As your project evolves, keep checking back in with your budget and plan to see how you're tracking to avoid nasty financial surprises that might take the shine off the finished product.
Find out more
Harmoney home improvement loans
Other articles you might like:
How extending your mortgage can hurt