Credit cards could be costing you more than you think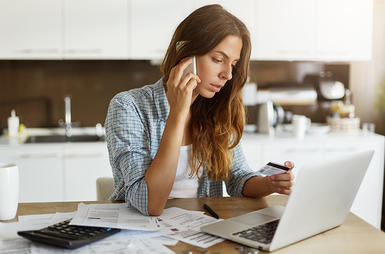 If you need a little help to fund a big purchase or cover an unexpected expense, you might like to borrow the money in the short term. Credit cards and personal loans are both good ways to make it happen - but do you know which is best for your situation?
The Convenience and Risks of Credit Cards
Credit cards are a convenient way to defer the cost of things you want or need immediately. The catch is that credit cards are a reasonably expensive way of borrowing, with interest rates usually sitting around 15-25% per year. Although you may have a high credit limit, with a credit card, your debt is limited to what you actually spend.
Many credit card providers offer frequent flyer points or a small cashback reward as you spend money on the card. If you spend large amounts and can pay your credit card bill in full every month, shifting that everyday spending to a card with a rewards programme can earn you a small reward for no additional cost. Unfortunately, having ready access to credit can lead even reasonably financially savvy people to spend more than they can actually afford. This can lead to unnecessary financial stress and debt that spirals out of control.
Is a Personal Loan the Better Choice?
Personal loans are typically used for larger expenses - you might put groceries or a new phone on a credit card, whereas personal loans are often used to buy vehicles, fund a wedding or a getaway or cover unexpected healthcare costs. A personal loan typically involves borrowing a large sum all at once, rather than maintaining access to a credit facility which can regularly be 'drawn down' like a credit card. That said, depending on your serviceability, a personal loan can usually be topped up if the need arises.
Personal loans typically have a lower interest rate than credit card borrowing, so you'll pay less in interest and repay your loan over a shorter term. Most personal loans also have a fixed interest rate and repayment schedule, making it simple to understand how much you'll pay back. And if you are finding that those credit card statements are starting to run away on you, a personal loan can offer a simple way to consolidate your debt. Juggling several hire purchase and credit card payments can be stressful and, if money's a little tight, one of those loans could easily get out of control. Using a personal loan to pay off several smaller loans can seem daunting but will often reduce your interest rate and simplify your budgeting.
Credit cards are a useful tool, particularly for everyday purchases or as an alternative to an easily accessible emergency fund. But for larger expenses, a personal loan is often the smarter way to make it happen.
Find out if Debt Consolidation is right for you.
General Advice Disclaimer
The information contained on this website is general in nature and does not take into account your personal situation. You should consider whether the information is appropriate to your needs, and where appropriate, seek professional advice from a financial adviser.