A day to remember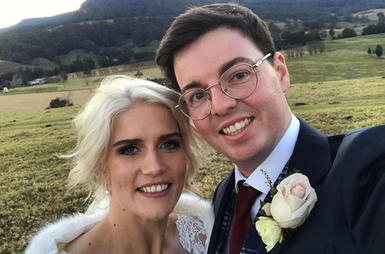 When Jess Upson and her partner Alex were planning their wedding, the last thing they wanted was to be stressed about paying for it.
Initially they considered extending their mortgage but found that due to having recently fixed that account, they still couldn't access the funds they needed for the wedding.
Jess' solution was to apply for a personal loan with Harmoney.
"I just didn't want to be constantly worrying about saving fast enough to be able to pay deposits on things like venues as we found them," she says. "By taking out the loan, I knew the money was already there, in my account, ready to go when we needed it."
Harmoney's personalised interest rates also appealed. "I have worked pretty hard to make sure I have a good credit rating, and that paid off because my rate with Harmoney was about 11% or 12%, where with the banks I think it was closer to 20%."
What that all meant for Jess was a wedding day to remember.
"It was a really memorable day. We had amazing weather, and we planned the day so all the formalities were done early so we could just relax and enjoy ourselves. 
"We didn't do some of the really traditional things like throwing the bouquet. After our entrance into the reception we made our speeches and cut the cake. Then we could just enjoy ourselves. I think that was my favourite part - when we got to sit down and relax.
"I've heard so many people say they didn't get to eat dinner at their own wedding. I wanted to make sure that wasn't going to be me!"
Helping people achieve their goals is important to Harmoney. Making the whole process of obtaining a personal loan quick and easy is our way of helping.
Do you have a goal and need a personal loan to get there? We'd love to help.
Learn more about Harmoney personal loans.
More articles you might like:
Five ways to have a stress-free wedding